Window Magnet Lift Top Counter Mats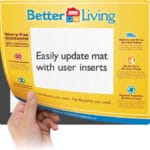 We offer window magnet lift top counter mats with premium rubber backing. These counter mats feature a magnetic window top layer in which you can lift and display different artwork. The premium rubber backing provides great support to the counter mat, ensuring the counter mat sticks to almost any surface you set it on.
View examples of Window Insert Counter Mats by clicking an image below.
View Counter Mat Pricing
Click a counter mat thickness to see the pricing for that particular thickness of counter mats. Pricing will vary by thickness, size, and quantity ordered.
Window Magnet Lift-Top Counter Mat with Premium Rubber Backing
Window Magnet Lift-Top Counter Mat with Premium Rubber Backing
Window Magnet Lift-Top Counter Mat with Premium Rubber Backing
| Item # | SIZE | 100 | 250 | 500 | 1000 | 2500 | 5000 |
| --- | --- | --- | --- | --- | --- | --- | --- |
| CMMDSL101318 | 10" x 13" x 1/8" | $13.00 | $11.70 | $10.53 | $9.48 | $8.53 | $7.68 |
| CMMDSL101518 | 10" x 15" x 1/8" | $13.73 | $12.35 | $11.12 | $10.01 | $9.00 | $8.10 |
| CMMDSL111618 | 11" x 16" x 1/8" | $13.98 | $12.58 | $11.32 | $10.19 | $9.17 | $8.25 |
| CMMDSL111718 | 11" x 17" x 1/8" | $14.94 | $13.44 | $12.10 | $10.89 | $9.80 | $8.82 |
| CMMDSL121818 | 12" x 18" x 1/8" | $15.41 | $13.87 | $12.48 | $11.24 | $10.11 | $9.10 |
| CMMDSL121918 | 12" x 19" x 1/8" | $15.90 | $14.31 | $12.88 | $11.59 | $10.43 | $9.39 |
| CMMDSL131918 | 13" x 19" x 1/8" | $16.38 | $14.74 | $13.26 | $11.94 | $10.74 | $9.67 |
| CMMDSL141918 | 14" x 19" x 1/8" | $16.86 | $15.18 | $13.66 | $12.29 | $11.06 | $9.96 |
| CMMDSL162018 | 16" x 20" x 1/8" | $17.06 | $15.36 | $13.82 | $12.44 | $11.19 | $10.08 |
| CMMDSL152218 | 15" x 22" x 1/8" | $17.54 | $15.78 | $14.21 | $12.78 | $11.51 | $10.36 |
| CMMDSL162218 | 16" x 22" x 1/8" | $18.29 | $16.46 | $14.81 | $13.33 | $12.00 | $10.80 |
| CMMDSL172218 | 17" x 22" x 1/8" | $17.90 | $16.11 | $14.50 | $13.05 | $11.74 | $10.57 |