Ultra Lite Repositionable Counter Mats with Adhesive Backing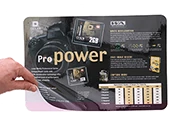 We offer
ultra lite
repositionable counter mats in different sizes, and counter mat thickness. The lightweight material provides a thin but durable surface, while also providing a strong adhesive backing.
View Counter Mat Pricing
Click a counter mat thickness to see the pricing for that particular thickness of counter mats. Pricing will vary by thickness, size, and quantity ordered.
SKINS Ultra Lite Repositionable Matte Plus .04"
THINS Ultra Lite Repositionable Matte Plus .04"
Ultra Lite Repositionable Counter Mats With A Gloss Surface .02"
SKINS Ultra Lite Repositionable Matte Plus .04"
SKINS Style MATTE Plus Surface w/ Repositionable Adhesive Back .04"
| Item # | Size | 100 | 250 | 500 | 1000 | 2500 | 5000 |
| --- | --- | --- | --- | --- | --- | --- | --- |
| CMSKRM1015 | 10" x 15" x .04" | $4.87 | $3.54 | $3.22 | $2.72 | $2.51 | $2.21 |
| CMSKRM1016 | 10" x 16" x .04" | $5.13 | $3.79 | $3.45 | $2.91 | $2.70 | $2.39 |
| CMSKRM1116 | 11" x 16" x .04" | $5.41 | $4.06 | $3.70 | $3.16 | $2.93 | $2.61 |
| CMSKRM1117 | 11" x 17" x .04" | $5.63 | $4.26 | $3.91 | $3.34 | $3.11 | $2.78 |
| CMSKRM1218 | 12" x 18" x .04" | $6.17 | $4.78 | $4.41 | $3.81 | $3.56 | $3.20 |
| CMSKRM1219 | 12" x 19" x .04" | $6.43 | $5.03 | $4.64 | $4.04 | $3.78 | $3.40 |
| CMSKRM1319 | 13" x 19" x .04" | $7.37 | $5.91 | $5.51 | $4.85 | $4.56 | $4.13 |
| CMSKRM1419 | 14" x 19" x .04" | $7.37 | $5.91 | $5.51 | $4.85 | $4.56 | $4.13 |
| CMSKRM1620 | 16" x 20" x .04" | $8.26 | $6.75 | $6.32 | $5.63 | $5.30 | $4.83 |
| CMSKRM1522 | 15" x 22" x .04" | $8.63 | $7.10 | $6.67 | $5.95 | $5.61 | $5.11 |
| CMSKRM1622 | 16" x 22" x .04" | $8.63 | $7.10 | $6.67 | $5.95 | $5.61 | $5.11 |
| CMSKRM1722 | 17" x 22" x .04" | $9.65 | $8.08 | $7.61 | $6.84 | $6.45 | $5.91 |
| CMSKRM1824 | 18" x 24" x .04" | $10.54 | $8.91 | $8.43 | $7.61 | $7.19 | $6.60 |
| CMSKRM1726 | 17" x 26" x .04" | $10.70 | $9.06 | $8.57 | $7.74 | $7.32 | $6.72 |
THINS Ultra Lite Repositionable Matte Plus .04"
Ultra Lite Repositionable Counter Mats With A Gloss Surface .02"